Arizona
Back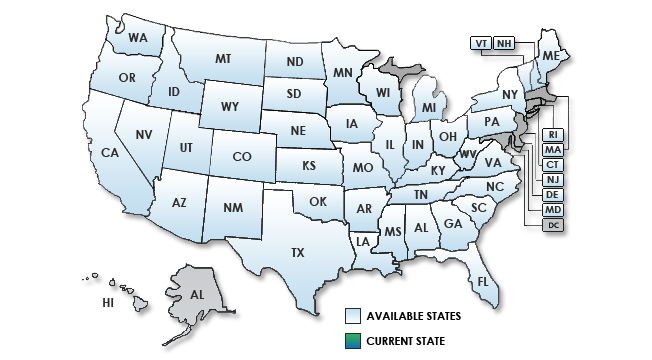 Should I register for IFTA in Arizona?
Arizona considers a qualified motor vehicle as one that is designed, used, or maintained for the transportation of persons or property that have:
Two axles and a gross vehicle weight or registered gross vehicle weight exceeding 26,000 pounds or 11,797 kilograms; or
Having three or more axles regardless of weight; or used in combination, when the weight of such combination exceeds 26,000 pounds, or 11,797 kilograms gross vehicle or registered gross vehicle weight.
How do I apply for an IFTA license in Arizona?
To apply for an IFTA License you will need to complete IFTA/IRP application and mail it along with required supporting documents to the licensing office of Arizona.
What fees must I pay under IFTA?
Arizona charges a $10 for your initial application, and a $10 annual renewal of your IFTA license.
What IFTA credentials will I receive from Arizona?
You will receive one Arizona IFTA license and a set of two decals for each qualified motor vehicle. The license and decals are valid for the calendar year.
Are there penalties for traveling without valid IFTA credentials or a fuel trip permit in Arizona?
If you travel in an IFTA jurisdiction (including Arizona) without valid IFTA credentials or a fuel tax permit, by law you are subject to a penalty, fine or citation. If you enter Arizona without a valid Arizona fuel tax permit or IFTA credentials, you are in violation of a class 2 misdemeanor.
Do I file a quarterly fuel tax report if I didn't run during
the quarter?
Yes, Arizona still requires you to submit a "zero" report even if no fuel or IFTA mileage was traveled in that quarter.
How do I obtain a IFTA Quarterly Return for Arizona?
IFTA quarterly use tax returns can be completed online at ExpressIFTA. Simply print the return off and mail to the state of Arizona. If for some reason you are not able to file online, you may complete the IFTA Use Fuel Tax Report form # 70-4434, and mail it to the Fuel Tax Reporting Unit of Arizona with any required payment.
Is there an alternative to IFTA registration in Arizona?
Yes. If you qualify for an IFTA license but do not choose to obtain one, Arizona allows you to instead obtain a fuel tax permit from each member jurisdiction (state) that you travel to and from.
Where can I get more information?
You can get more details regarding IFTA by visiting the official DOT website of the state of Arizona
Get Schedule 1 in minutes!
E-file Form 2290 Now
IRS Approved
Quick, Secure, & Accurate
Free VIN Corrections
U.S Based Customer Support