How to generate your IFTA quarterly report with
ExpressIFTA
Create your
FREE Account

Enter your Business
Information &
Base Jurisdiction

Enter your Miles &
Fuel Records

Generate your
IFTA Report
The Market Leading
IFTA Reporting Software
Quarterly Fuel Tax Reporting
ExpressIFTA is the most convenient way to track all of your fuel records and generate your quarterly fuel tax reports online. The process is simple, just follow the step-by-step guide to enter your business details, vehicle information, and fuel records to generate your report. ExpressIFTA also provides IRP reports, so you can easily track your mileage per jurisdiction.
IFTA Fuel Entries
You can even instantly upload your records with your GPS data or use the quick entry screen to enter your odometer readings, and we will accurately calculate the amount of IFTA fuel tax you owe for you. Also, you can maintain and organize distance/fuel records per vehicle or driver. ExpressIFTA is so detailed that you can even monitor your totals per fuel type. There's no easier way to generate your quarterly IFTA reports and track your IRP mileage.
Multiple Filing Formats
Some states require you to submit your IFTA return in a PDF format to your base jurisdiction, while other states require you to complete your IFTA return online. That's why ExpressIFTA provides a PDF format and online worksheets. You can track your totals with an offline PDF format to print and submit to your base jurisdiction to complete your return, or use our online worksheets to track your totals per jurisdiction. The worksheets can then be used to complete your IFTA return online.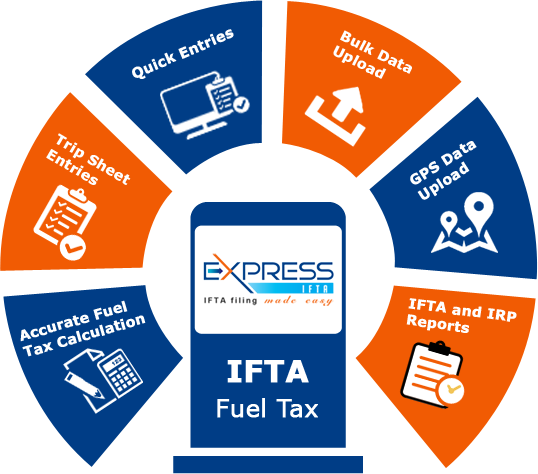 Fuel Tax Reporting Software
Features
Accurate Fuel Tax Calculation

We know that taxes can be difficult to calculate, that's why ExpressIFTA automatically calculates your amount due..

Learn More..

IFTA and IRP Reports

Apart of complying with IFTA reporting includes having an IRP or International Registration Plan. Every IFTA qualifying vehicle is required..

Learn More..
Bulk Data Upload

ExpressIFTA allows you to conveniently Bulk Upload all of your odometer or distance records at once with an Excel or CSV..

Learn More..

Pre-Auditing

While reporting IFTA it's easy to make simple mistakes, but with our IFTA reporting software, you don't have to worry. Our pre-auditing..



Learn More..
Customer Testimonials
Its easy to use, very user-friendly and self-explanatory

Frederick Jones

, Natchez, Mississippi
To me its fine just the way it is

Jordan Robinson,

Clifton Heights, Pennsylvania
Easy and convenient

Simon Mirara,

Owings Mills, Maryland
Ease, and quality of the end result in a timely manner. I love doing business with this company! I wouldn't consider another. Very professional.

Danny Collins,

Clarence, Missouri
I like a lot

Minerva Gonzalez,

North Las Vegas, Nevada
Ease of use - very user-friendly

Sandra Dunlap,

Peralta, New Mexico